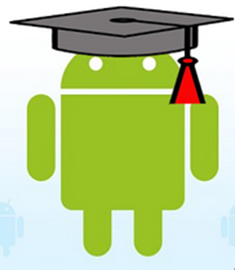 A really good list of Android App's which are useful to students has been compiled by the website Appstorm.Net
. It goes through a list of twenty apps that the author (Dean Sherwin) found to be most useful to him as a student. It sorts the apps under the headings Productivity, Studying & Reference, Student Finance, and Miscellanous and briefly describes each app, explaining how it is useful to the user.
Apps discussed include:
Evernote
, a free notetaking App that allows users to save their notes, ideas and memos for easy access later on
Shareyourboard
, a free app that enables users to take great quality snap shots of the white board in their classroom, thus allowing re-viewing after class
GPA Calc
, a free & simple calculator which helps students calculate their grade point average by the entering marks from their modules; thus students can easily keep track of how they are performing in college.
It also discusses the Aldiko e-Reader
, a free eBook reader that stores your ebooks & PDFs in a library bookshelf format.
For any student with an android device, it is a list certainly worth taking a look at.